• Misirli & Poetic Brands sign up for new Apparel deals in the UK, while AST and Origami are secured for activity books, puzzles and games in Russia
• Publishing renewals confirmed in North America, France and the UK
London, 29 September 2021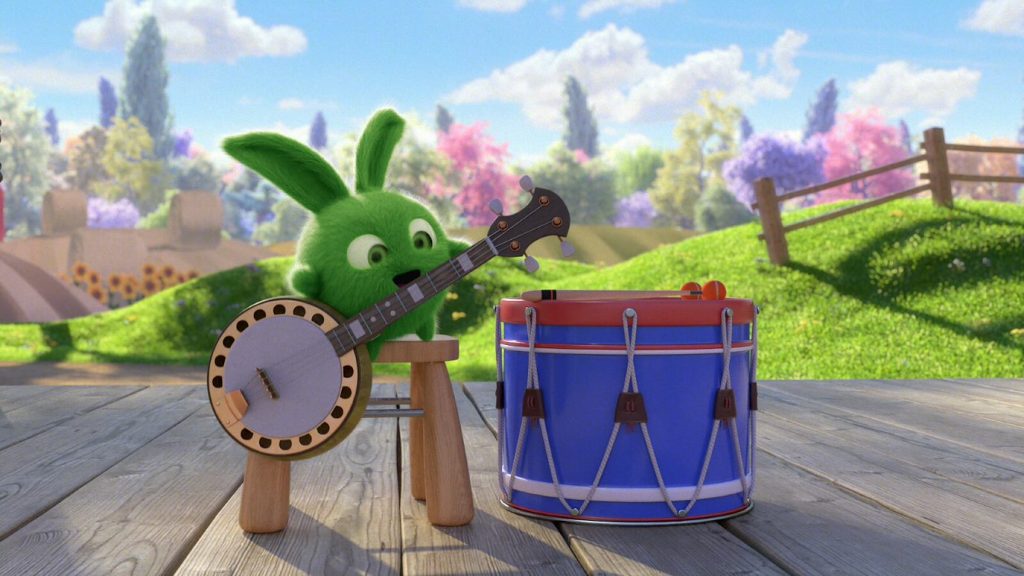 Media I.M. Incorporated, the London-based content distribution company that specialises in premium animation and family entertainment, has announced a number of major licensing and merchandising (L&M) deals in the UK and Russia for its global pre-school phenomenon, Sunny Bunnies.
Misirli, one of the UK's leading manufacturers and suppliers of own-brand and licensed-character nightwear, underwear and socks, has signed a new deal to supply retailers with a range of Sunny Bunnies products. Additionally, we are pleased to announce that Poetic Brands have come onboard as our UK Apparel partner, working on collections across daywear, outerwear, accessories and 'puddle wear'.
In Russia, meanwhile, deals have been closed with two of the country's largest L&M players: AST Publishing, which will produce activity, sticker, colouring, board and novelty books; and Origami, which will deliver Sunny Bunnies-themed puzzles, games and craft sets.
These latest L&M deals follow on from the announcement in September 2020 of a multimedia deal with Russia's 0+ Media, which specialises in exploiting children's content and consumer products across multiple licensing and retail outlets, live events, and gaming, TV and VOD platforms. Under the three-year agreement, 0+ Media secured the L&M rights for Sunny Bunnies across all the main categories of consumer products.
Gavin Metcalfe, Brand Licensing Director at Media I.M., said: "We are so thrilled that Sunny Bunnies is picking up considerable licensing interest, culminating in the signing of these significant apparel deals and the renewal of publishing deals in the UK. Anyone in the licensing business knows that deals of this nature don't happen unless robust due diligence has been carried out, so we are in a very good place to build and expand the licensing programme into additional categories and territories in the very near future."
The vast Russian region, meanwhile, is an incredibly exciting market, and one that is expanding rapidly in terms of consumer products. The deal last year with 0+ Media started Sunny Bunnies on their Russian L&M journey and we're excited to be building on that with these two latest deals."
Two renewal deals have also been agreed with UK pre-school publisher Redan, which features Sunny Bunnies in its Fun to Learn Favourites and Fun to Learn Friends magazines; and Crackboom / Chouette Publishing new activity books in French and English for North America, France and the UK.
Sunny Bunnies L&M strategy continues to roll out across the world. The last year has seen Toys launched via UK plush-toy specialist Posh Paws, who has developed a range of soft toys of the loveable Sunny Bunnies characters. The Posh Paws toys, which come in three sizes and have sound and movement features, launched this year in UK retailers, including Argos, Tesco, Smyths, Moonpig and Amazon. A wide variety of products are also available from Global gifts and merchandise specialist Redbubble, who currently have 80 Sunny Bunnies designs available across apparel, stickers, cards, mugs and bottles etc.
Produced by Digital Light Studio, Sunny Bunnies is a pre-school comedy show featuring five beaming balls — Turbo, Big Boo, Iris, Shiny and Hopper — that can appear anywhere there is a source of light, from sunshine to moonlight. In each episode, the cheeky creatures bring their fun and games to a different location — a circus, a sports stadium, a park — where they embark on mischievous adventures, spreading laughter and happiness. Media I.M. has managed the international distribution of the property since it launched on YouTube in 2015.


Over the past six years, Sunny Bunnies has become one of the most successful children's brands on the global market, with presence in over 160 global territories and currently working with over 60 linear and digital partners across TV and VOD. On YouTube, Sunny Bunnies has now generated more than 3.1 billion views since its launch, representing a year-on-year increase of 87.5% and a 50% increase in subscribers. In the UK alone, the brand's official YouTube channel has grown from 7.3 million views in 2015 to 18.4 million in 2020 – a 67% increase year on year.
About Media I.M. Incorporated
Media I.M. Incorporated, launched in April 2014 by former Viacom International Media Networks executives Maria Ufland and Irina Nazarenko, is an international content distribution company specialising in the sale of premium family entertainment and animation to both linear and non-linear platforms. The London-based operation has forged exclusive distribution agreements with several of Europe and Russia's top animation producers, including Studio Atria, Da Animation Studio, Studio Nebo and Digital Light Studio.
Media I.M. Incorporated is active in pre-sales and identifying co-production and product licensing partners for its animation brands, which include Sunny Bunnies, Robodz, The Bubbles, and Flying Animals. The company's boutique approach gives it the flexibility to develop 360-degree opportunities around each property to deliver maximum value to both producers and licensees.
For further information on Media I.M. Incorporated, please contact:
Cheryl Clarke at Mushroom Media on:
Tel: +44 (0)7939554109
E: cheryl@mushroom-media.co.uk