London, March 31st 2021
Media I.M. Incorporated, the London-based content distribution company that specialises in premium animation and family entertainment, has announced a brand extension to its phenomenally successful Sunny Bunnies property, as new deals continue to be sealed with platforms and broadcasters around the world.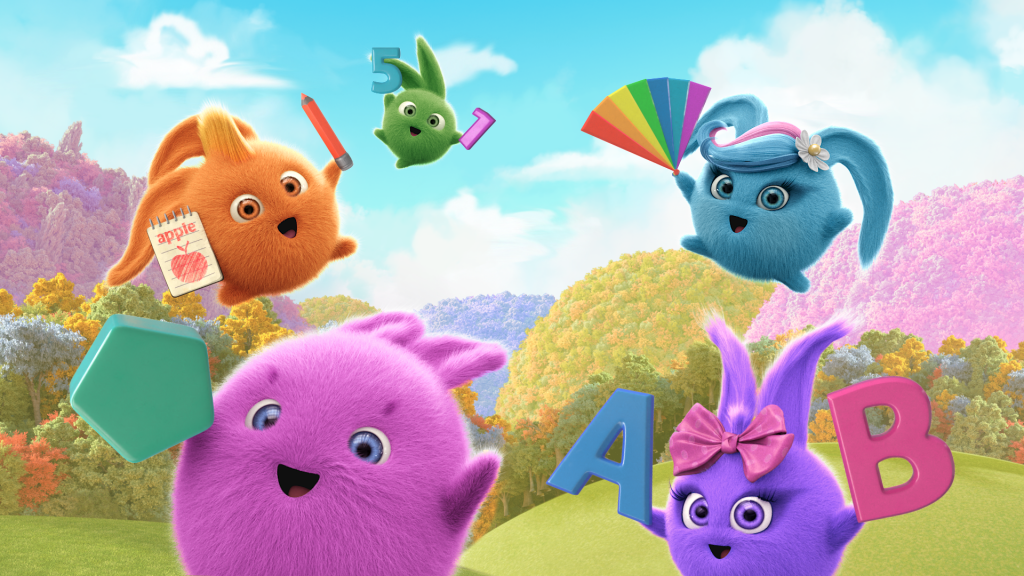 Media I.M. has added the distribution rights to Minsk-based producer Digital Light Studios new educational sub-brand, Sunny Bunnies ABC (61 x 1.5 mins), which will launch in April on the Sunny Bunnies dedicated YouTube channel. The channel has seen significant success on the platform, generating over 2.7 billion views to date through a partnership with WildBrain Spark.
The educationally focused new series is designed to help pre-school children to learn letters, numbers, colours and shapes through a range of craft-making activities. Combining creativity with learning, the series is a combination of live action and animation guiding children through learning how to draw, paint, make, sculpt, glue, decorate English-language letters, numbers, shapes, primary colours and learn about concepts such as opposites using different artistic techniques. The show will be presented as a "sunny school" for the children who can learn and play alongside Sunny Bunnies.
Meanwhile, Media I.M. Incorporated has closed a string of new deals for the five current seasons of Sunny Bunnies in recent months. Brazil's leading FTA broadcaster, TV Cultura, has taken the first three seasons of the show, which is slated to air from April. Sunny Bunnies Season 5 is headed for Kidoodle.TV® the Safe Streaming™ channel for kids under 12 in over 160 countries and to Canada's WildBrain Television, which has picked up seasons three and four for its suite of English- and French-speaking channels, notably Family Jr, Telemagino, Family and Family CHRGD.
Sales and/or renewals have been booked with MBC3 in MENA, Canal Panda in Portugal, Mango TV in China, Brazilian streaming platform PlayKids, ; Amazon Prime, The Roku Channel and Tubi (via Janson Media). Another SVOD deal will see the Bunnies air on Premier ONE, which has licensed first the three seasons for Russia and the CIS.
Other new clients include Mena Mobile Technology, which has acquired several seasons of Sunny Bunnies and Get Busy for its recently launched Bostan app. The MENA-based service, which is designed for children aged three to 12, aggregates premium entertainment and educational content from around the world.
Maria Ufland co-founder of Media I.M. Incorporated, said: "The Sunny Bunnies story just keeps on giving happy endings — and not only in terms of global sales, but also in the creation of brand extensions that use fun to introduce children to basic educational concepts. Like Get Busy, Sunny Bunnies ABC uses kids' favourite characters to help them learn without even realising they're being taught. Meanwhile, the explosion in SVOD and AVOD around the world and an increased appetite for quality kid's content has opened up a lot of opportunities for our bunnies to jump into, as these deals demonstrate. We are very excited that our show will now be available to kids in more territories through our deals with TV Cultura and Bostan app".
Produced by Digital Light Studio, the Sunny Bunnies are five beaming balls that can appear anywhere there is a source of light, from sunshine to moonlight. In each episode, the cheeky creatures bring their fun and games to a different location — a circus, a sports stadium, a park — embarking on mischievous adventures and spreading laughter and happiness. And at the end of every episode, the fun continues with a collection of bloopers.
About Media I.M. Incorporated
Media I.M. Incorporated, launched in April 2014 by former Viacom International Media Networks executives Maria Ufland and Irina Nazarenko, is an international content distribution company specialising in the sale of premium family entertainment and animation to both linear and non-linear platforms. The London-based operation has forged exclusive distribution agreements with several of Europe and Russia's top animation producers, including Studio Atria, Da Animation Studio, Studio Nebo and Digital Light Studio.
Media I.M. Incorporated is active in pre-sales and identifying co-production and product licensing partners for its animation brands, which include Sunny Bunnies, Robodz, The Bubbles, and Flying Animals. The company's boutique approach gives it the flexibility to develop 360-degree opportunities around each property to deliver maximum value to both producers and licensees.
www.mediaiminc.com
For further information on Media I.M. Incorporated, please contact:
Cheryl Clarke at Mushroom Media on:
Tel: +44 (0)7939554109
E: cheryl@mushroom-media.co.uk